Peter E. Turkeltaub, MD, PhD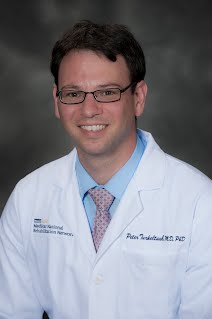 Associate Professor, Departments of Neurology and Rehabilitation Medicine
Director, Cognitive Recovery Lab
Medical Director, Center for Aphasia Research and Rehabilitation, Georgetown University Medical Center
Director, Aphasia Clinic, MedStar National Rehabilitation Hospital
 
Georgetown University Medical Center, Building D, Room 157
MD, PhD (Neuroscience) Georgetown University, 2005
Neurology Residency, University of Pennsylvania, 2009
Cognitive Neurology Fellowship, University of Pennsylvania, 2011
Research: Dr. Turkeltaub is a cognitive neurologist and neuroscientist whose research investigates the brain's organization for language and other cognitive faculties, how this organization changes in the context of developmental or acquired brain disorders, and how we might enhance recovery. He studies normal populations as well as individuals with disorders of language and related functions, primarily post-stroke aphasia, but also including primary progressive aphasia, acquired alexia, developmental dyslexia, specific language impairment, and autism. He uses a variety of techniques, primarily TMS, tDCS, fMRI, neuroimaging meta-analysis, and neuropsychology. Dr. Turkeltaub invented the Activation Likelihood Estimation (ALE) meta-analysis technique, which has become the most widely used meta-analysis method in the neuroimaging community. He is active in education at Georgetown, both in the medical school and on the main campus. He co-directs and teaches the Brain and Language course for PhD and undergraduate students; oversees medical students and neurology residents as an attending on the neurology in-patient service; and teaches first year medical students in the Medical Neuroscience course. He is actively involved, and mentors students, in the cross-campus Interdisciplinary Program in Neuroscience (IPN). Dr. Turkeltaub's clinical practice is dedicated to acquired aphasia and alexia. He is the Director of the outpatient Aphasia Clinic and the inpatient Aphasia and Cognitive Neurology Consult Service at NRH.