Educating the Next Generation of Movement Disorders Specialists
What is the Fund a Fellow for Parkinson's program?
Led by Fernando Pagan, MD, director of the Movement Disorders Program at MedStar Georgetown University Hospital and medical director of Georgetown University Medical Center's Translational Neurotherapeutics Program, the Fund a Fellow for Parkinson's program provides funding to train early-career neurologists as movement disorders specialists through a two-year fellowship. This fellowship prepares neurologists to diagnose patients accurately and provide access to the latest treatments available, including groundbreaking clinical trials like those being conducted at Georgetown.
Why is the Fund a Fellow for Parkinson's program so important?
There are simply not enough movement disorders specialists. This is an escalating problem as the population of individuals with a movement disorder grows. Movement disorders manifest differently in each individual, requiring a specialist to provide an accurate diagnosis and knowledge of the latest treatments.
How is it made possible?
The movement disorders fellowship program is funded entirely by philanthropy, 100% of which directly supports the fellows. Generous contributions from more than 500 donors totaling nearly $1.7 million has allowed Georgetown to train 16 movement disorders specialists over the last six years. These specialists are now practicing around the country, helping countless patients and families who previously did not have access to this expert level of care. While at Georgetown, the fellows have helped carry out innovative clinical research that informs the latest, most advanced therapies available. This invaluable experience further strengthens their clinical preparedness.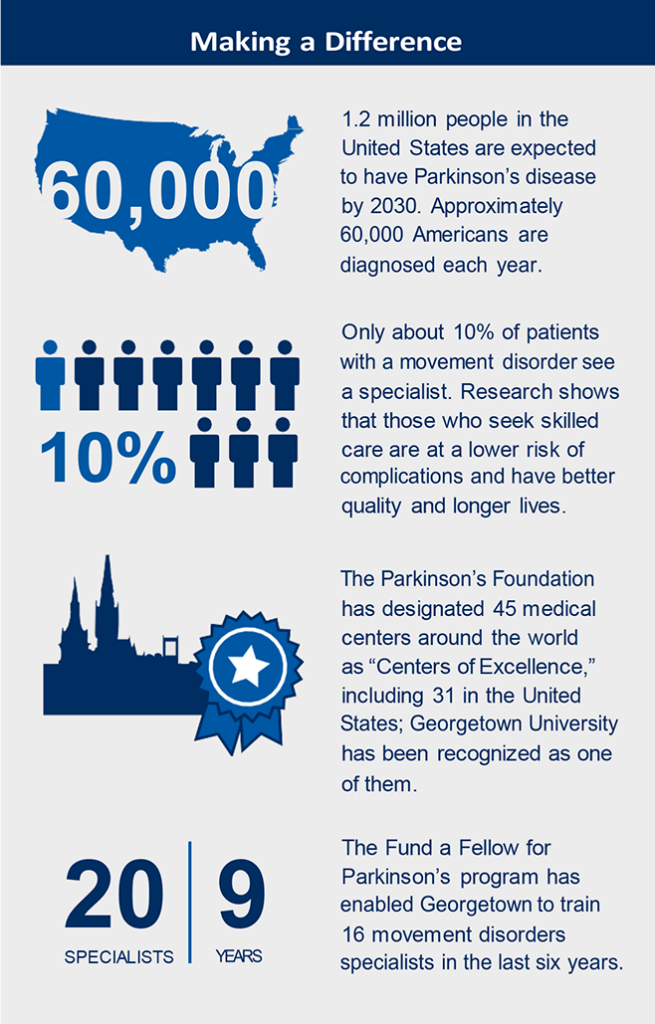 Support & Inspire
THE INVESTMENT
To support a two-year fellowship in the Movement Disorders Program
Current Use: $170,000 ($85,000 per year for two years)
Endowment: $1.7 million (Eligible for a five-year commitment)
GIVE NOW
Outright giving is essential to sustaining the movement disorders fellowship program. Whether you write a check, donate stock, or share a less-traditional asset, 100% of your donation will support this critical program.
Phone: 202-687-1690 (secure line)
Mail: Georgetown University—Fund a Fellow for Parkinson's
Office of Advancement
Department Number 0734
Washington, DC 20073
SPREAD IT OUT
Multi-Year Pledges: A multi-year pledge spread across up to five years can help you facilitate ongoing giving at a comfortable level with cumulative benefit and impact.
Endowments: When you create an endowment at Georgetown University Medical Center to support a movement disorders fellowship, the money you contribute is invested in perpetuity and managed as a permanent financial asset. Each year, a portion of the endowed fund is paid out—currently about 5%—to support a movement disorders fellowship.
PLAN FOR THE FUTURE
Planned gifts are a powerful complement to outright giving and crucial to the Fund a Fellow program's long-term ambition.
Bequest intentions can be as simple as a few sentences, are non-binding, and don't compromise your cash flow, all while creating a lasting impact.
BECOME A FUNDRAISER
Fundraising for Fund a Fellow for Parkinson's:
Host an event with your friends and family
Organize an online campaign with our help
Be an ambassador: Bring a friend to our next event and follow us on social media (facebook.com/FundaFellow)
For more information, please contact Mark Antonucci at:
Mark.Antonucci@georgetown.edu or 202-687-6807.